Register & Configure App
In this tutorial, you will learn how to register and configure a Web3 app before integrating it with the Arcana Auth SDK.
Client ID
Each registered app is assigned a unique identifier, Client ID, required to integrate an app with the Arcana Auth SDK.
Prerequisites
To use the Arcana Developer Dashboard, developers must have an account with one of the supported social providers. Or they can use the passwordless sign-in option.

Google
Discord
Twitter
GitHub
Step 1: Developer Dashboard Login
Go to https://dashboard.arcana.network and select a login option on the welcome screen.
Step 2: Register Application
All the apps registered against the developer's account show up as cards in the Manage Apps screen of the Arcana Developer Dashboard.
Click on the Create New App wizard, the first card on the Manage Apps screen, to register a new app.
Click the wizard and specify the name of the app to be registered in the App Name field. When you click Create, the app is registered for using the Arcana Testnet by default.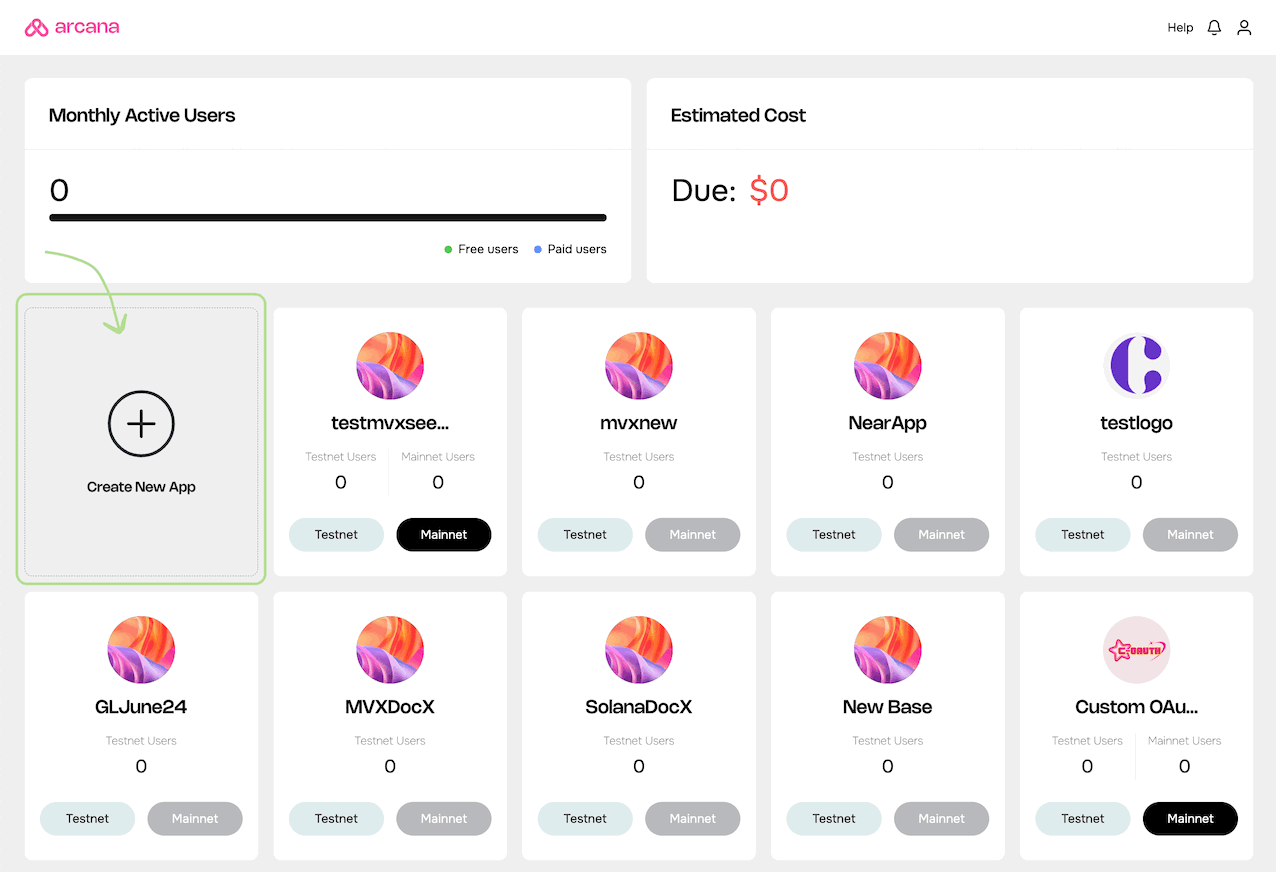 Tip
To edit the name of a registered app entry, use the pen icon. Click Enter in the editable text field to save the changes.
After successfully registering an app, the app dashboard screen is displayed automatically. It shows the Arcana Testnet usage statistics for the app. By default, every newly registered app is associated with the 'Testnet' configuration profile. Use Configure in the LHS menu to view and edit configuration settings.
Step 3: Configure Application
Click Configure in the LHS navigation of the app configuration screen in the Arcana Developer Dashboard to bring up app configuration settings:
Branding
Social Auth
Chain Management
Arcana Wallet
Keyspace (Available only after the 'Mainnet' profile is created)
Use the defaults or provide inputs for various settings as per your application use case. These settings control Arcana Auth SDK usage, user onboarding, and blockchain transaction signing experience.
Click on the tabs below to see the various configuration settings in each category.
Make sure you save the configuration settings before leaving the Arcana Developer Dashboard page in your browser.
You can reconfigure Web3 app settings for Arcana Auth SDK usage anytime later by using the Arcana Developer Dashboard.
That is all! 🎉
You have successfully registered and configured your application.
What's next?
See how to configure Arcana Auth SDK usage for details on setting up authentication providers.
After registering and configuring the application, developers must install the Arcana Auth SDK and integrate the app before enabling user onboarding and allowing the authenticated users to sign blockchain transactions.
Save Client ID
A unique Client ID is assigned to every registered app. It is displayed on the top right of the dashboard screen. Copy and use it to integrate the app with the Arcana Auth SDK.
See Also
---
Last update:
April 25, 2023
by